An Airdrop Voting Event has just been launched to reward those voting for the best performers of Nuritopia's Talent Contest that ended last month.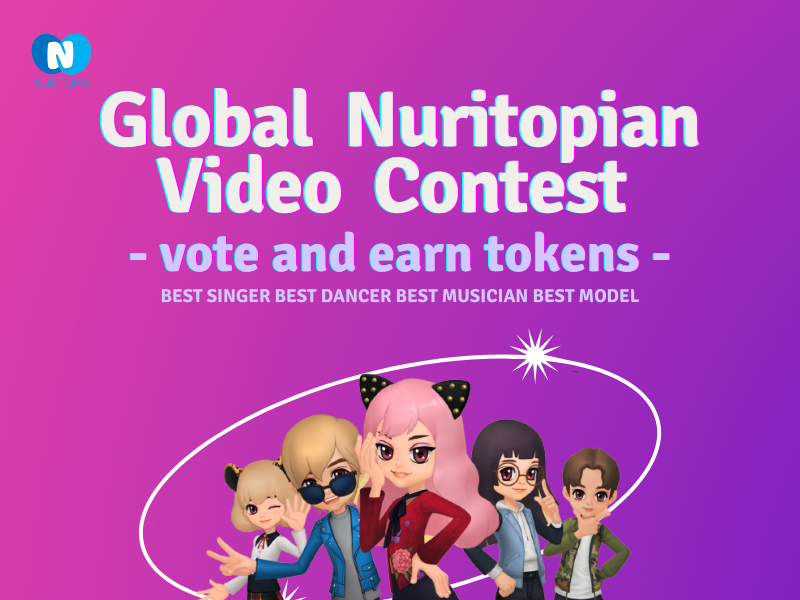 The Talent Contest that ended on February 28th was a global event that drew a lot of attention from the community and attracted many great performers. The contest featured multiple performance categories including "Best Dancer," "Best Singer," "Best Model," "Best Musician," and "Funniest Video".
Nuritopia is now sharing the experience by inviting its community members to vote for their favorite talents. The participants can cast one vote per category and earn tens of NBLUs. Nobody goes home empty-handed as each vote is rewarded with NBLUs.
The Details of the Airdrop Event
Whether you are a virtual reality enthusiast or just looking for a more immersive way to connect with others, Nuritopia will be the perfect place for you. Earn your free tokens now by following these few steps:
Visit the official voting page.

View the performance videos.

Return to the voting page and select your favorite contestant.

Click on "VOTE" button.

Repeat step 2, 3 and 4 for each category to maximize your earnings.
A Large Social Metaverse Ecosystem
Nuritopia is a revolutionary new social metaverse that seeks to facilitate the way people connect and create bonds. Using their cryptocurrency, NBLU, Nuritopia will enable secure and fast transactions within their virtual ecosystem.
The metaverse will offer many interesting activities and experiences through an array of services that include Friends & Hangouts, Curated Communities, and NFT Marketplace, just to name a few. Users will also be able to use Nuritopia's advanced communication tools for businesses in a Virtual Work Office, allowing for remote work opportunities.
Overall, Nuritopia will offer a one-of-a-kind experience for those looking to socialize and date in an immersive and virtual world. It will offer users a gamified experience with various recreational activities to spend some quality time online. The metaverse will also serve as a platform for users to make real-world profits with their contributions. Content creators will benefit from the native token NBLU, which will be tradeable on several cryptocurrency exchanges.
The project's website and Nuritopia's social media pages below will continue to keep the community up to date.
Twitter | Telegram | Instagram | Kakao